Today's episode is a transition, of sorts. As Season 1 concluded, the Sea Peoples had attempted an invasion of Egypt and the Late Bronze Age Collapse had wreaked havoc on many cultures of the ancient world. Now, we look at how things had settled over the 100 years that followed 1177 BCE. We look at the "Balkanization" of the areas that had once been controlled by powerful empires. In looking at this change, the journey of an Egyptian priest named Wenamun serves as the perfect picture of just how the world had changed by 1050 BCE, and how that change operated to open the door for a new trading power to rise.

Download | RSS | iTunes | Patreon | Leave a Review
A rough depiction of the Phoenician cities around 1000 BCE, with the Neo-Hittite kingdoms to the north and the Hebrews and other tribes to the south.
Comic Strip-Style Wenamun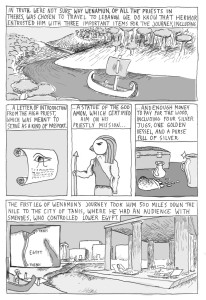 Check out the entire comic strip version of "The Misadventures of Wenamun" at The Common.
Support the Podcast
Did you enjoy this episode? If so, please consider donating a small amount via our Patreon page or taking a moment to leave a review on iTunes and sharing the podcast with your friends. Each one makes a world of difference. Thanks!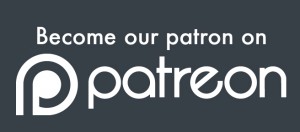 Sources
Abulafia, David, 

The Great Sea: A Human History of the Mediterranean

(2013).
Braudel, Fernand, 

Memory and the Mediterranean

 (1998).
Casson, Lionel, 

The Ancient Mariners: Seafarers and Sea Fighters of the Mediterranean in Ancient Times

 (1959).
Casson, Lionel, 

Travel in the Ancient World

(1974).
Miles, Richard, 

Carthage Must Be Destroyed: The Rise and Fall of an Ancient Civilization

(2010).
Paine, Lincoln, 

The Sea and Civilization: A Maritime History of the World

 (2013).
The Report of Wenamun, Translation from M. Lichtheim. Ancient Egyptian Literature: A Book of Readings. Vol. 2, pp. 224-29. [link]